Flow conditioners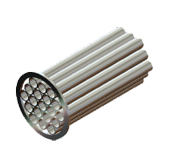 Description

EPS K type Flow conditioner

The EPS K type Flow conditioner, (designed in accordance with ISO 5167 1:2003) is a device which reduces the flow medium swirl as well as effectively redistributes the velocity profile to produce optimum conditions for accurate DP measurement. The EPS K type flow conditioner has a low pressure loss and it is equivalent to CPA50E and CPA55E type flow conditioners.
Features & Benefits

•Retro fit in the field.
•Reduces meter run lengths in accordance with ISO 5167 and API 14.3 (AGA 3 part 2)
•Available sizes 2 to 48 inch
•Manufactured from solid material therefore provides a robust device
Options

•A vast range of materials from stainless to exotic materials for demanding services such as Duplex and Inconel.
Are you looking for our EPS products?
Stop worrying about technology problems. Focus on your business.
Let us provide the support you deserve.